another halloween has come and past. and like usual in this house it has flopped once again. our little dud this year refused to go out. instead he opted for sleeping, but not before we tried going.
here he is going as Greg Wiggle...he of course wouldn't stand still so i couldn't gt a good shot, but we make do.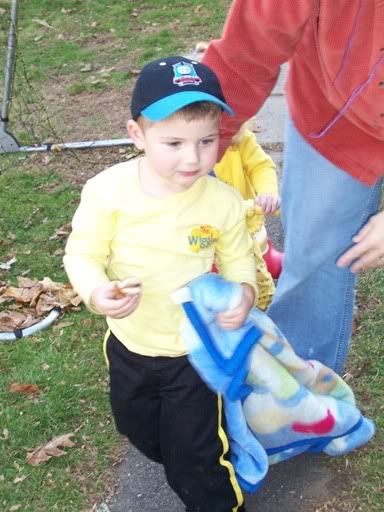 he was so excited all day to go, and when we got home he played for a while with the neighbor for it was a PERFECT night for trick or treating.. it was warm and not raining you could go and not freeze! hell i Was excited. i pulled out my 4 year old cape and witches hat.. i was ready. then jeff and becky show up about 5:30 and becky and i head out with evan who wanted nothing to do with it. go figure. we went 20 feet with him crying when he his lollipop fell out of his mouth, and that was the end. lol.. we went back to wah it off and he fell asleep. without dinner again. crap.
this time change is really messing him up this week. he's not napping during the day anymore, which is fine, he's usually chipper all day until it's time for bed, only this week, we haven't been getting dinner done before he falls asleep. this means that he wakes up at 1:30-2 am b/c he's hungry and then is up until 4. but atleast he's alright with me passing out on his bed or on the couch while he watches tv. so needless to say i'm tired