We should all do something good when given the chance and have the abilities to do so. if your resolution this yeare was to help out others more, or donate to charities, here's a great one!
from my good friend Janelle:


As many of you know, my son, Jacob, was born 6 weeks early at Women & Infants' hospital in RI. He's doing great, and recovering better than we could have ever anticipated - I say to everyone that I don't really have a "sick" baby, just one that needs to heal a little bit before he comes home =) But this experience has shown me how valuable and neccesary the NICU (Neonatal Intensive Care Unit) is - and how many other babies are born in desperate need of care to survive. The March of Dimes is an amazing foundation that help to raise money for reasearch to save babies' lives - and on April 29th, I'm participating in a Walk America, a 5 mile walk to raise money for this cause, in honor of my beautiful son, Jacob Michael Scott Lincoln. (Michelle, you are so amazing and I love you! Thank you for telling me about this, and creating Team Jacob!!!)
So... if you are up for a bit of a hike, come join Team Jacob and raise money for a great cause... the walk that I am participating in is in Manchester, NH, but if that's too far, by all means join us in honor at a different location. I'm thinking its going to be a lot of fun, and I can't wait =)
Of course, the other way to help is to sponsor Team Jacob. You can visit our March of Dimes website here, and donations/payments are accepted via credit card and PayPal.
and for a quick update:
he's doing great!!! 4lbs 14oz and up to 10cc's of milk every 4 hours! and of course, he's absolutely perfect. but then again, i'm biased ;-) i'll have more pictures up soon!
lots of love,
janelle
another friend from high school and is doing the walk as well! here's what she has to say: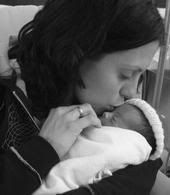 Jacob and his mommy Janelle
Jacob Michael Scott Lincoln was born 6 weeks early on December 19th, 2006 weighing 3lbs 14oz. He was born with Gastioentises (his intestines on the outside of his body) He has been receiving care in the NICU at Women and Infants Hospital in Providence RI. Every day Jacob has been getting stronger and stronger with the help of a great NICU team and the March of Dimes.
I am participating in WalkAmerica on April 29th 2007 in Machester NH. because I believe in the March of Dimes mission to save babies. Please support my fundraising efforts by sponsoring me in WalkAmerica today.
Contributing to my walk online is fast, easy and secure. You can donate directly from my personal webpage with a credit/debit card or PayPal. If you prefer, I can also accept cash or check. Just click the appropriate box on my webpage.
The money we raise helps save premature and sick babies. Premature birth is the #1 cause of newborn death and the biggest threat to babies' health today, and through WalkAmerica, the March of Dimes is funding important research to find out why premature birth happens and what can be done to prevent it.
I've joined with millions of compassionate people across the country who support WalkAmerica each year. Won't you please help me in this worthy cause? Visit my webpage and sponsor me in the walk that saves babies!
With your support, there's hope.
If you would like to join our team or sponsor Team Jacob please visit our page on the March of Dimes / Walk America web site. http://www.walkamerica.org/leftyhooha
Thank you for all your support!!
Team Jacob